Top Tips: Vegan-friendly New Year's party 🌱
10 finger-friendly party foods you didn't know were vegan...
By Danielle Mustarde
Published:
It is a truth universally acknowledged ​that there is a high correlation between lesbianing and vegetarianing/veganing. In fact, 87% of all les/bi... JUST KIDDING. I made that statistic up. Still I think many in the UK would agree that where there are girls who like girls, there are also girls who... like kale. So, whether it's your girlfriend, boyfriend, friends or family, here are a few #toptips for keeping the veggies and vegans in your life happy this New Year's Eve 🎉
1. Oreos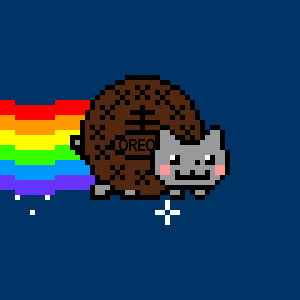 Almost always featuring on any "OMG! It's vegan!" list, the Oreo comes in top for accidentally vegan-friendly snackage. Whether you lay them out all fancy on a platter to welcome your guests, or save a multi-pack to get you through New Year's Day. The vegan girls in your life are sure to appreciate this cheeky, chocolate treat.
2. Skittles
Skittles! Alright, so far I appear to be catering for a 12-year-old's birthday party, but who doesn't want to taste the rainbow? AMIRIGHT.
3. Pringles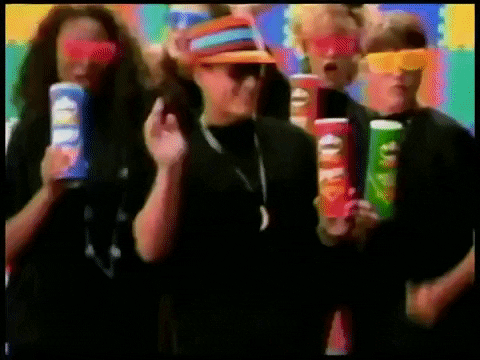 Once you pop, you just can't stop. No seriously... I think it's something we probably need to discuss as a society. Note: Not all flavours are vegan-friendly, according to the Peta website, it's the Original, BBQ, Paprika, and Smokey Bacon varieties. We got your back.
4. Doritos
Is it even a low-budget party without a bowl of Doritos and dip? The Lightly Salted and Chili Heatwave are both vegan. Hurray!
5. Popcorn
Ah, popcorn! What a joyous food. Butterkist Sweet Cinema Style, Sweet & Salted and Microwave Popcorn Salted are all vegan-friendly, and if you're feeling fancy, there are lots of varieties of "posh popcorn" available out there - just check the label to make sure they're both veggie and vegan friendly. (Also, this was definitely just an excuse to include Scarlett Johansson in a post #crushing)
6. Ritz Crackers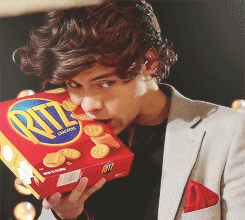 Um. There's no real explanation for this one ☝🏾...but Ritz crackers are vegan. We're not so sure about Harry.
7. Hummus
Need something to dip your crisps and crackers in? An obvious one, perhaps - but did you know it was this ☝🏼 easy to make your own? Show off and prep your own and you'll be every vegan's favourite host.
8. Sweet potato fries
Another obvious one (as well as regular chips!) but these are just so easy to make yourself and they'll keep the vegans, veggies and meat-eaters alike happy. Grab a few sweet potatos, chop them into skinny or fat chips, drizzle a little olive oil, add salt and pepper (and a couple of pinches of cumin for extra flavour) and throw them in the oven until they're golden brown. BOOM. You're a finger-food pro.
9. Literally anything by Linda McCartney
Not everything in the Linda McCartney range is vegan - but a lot of it is, and all of it's veggie friendly. If you're looking for something a bit more substantial, Linda's where it's at. Particularly good if you're hosting a sit down dinner but don't have time to cook from scratch.
10. And finally... drinks 🎉
As you may or may not know, most beers and wines aren't vegan due to the filtering process that they go through (I'll leave you to Google the details). But, if you are hosting a party where you'll be serving alcoholic drinks, according to the official Veganuary website, the following are all vegan-friendly (and there's a non-alcoholic beer in there too):
Beer/lager: Beck's Blue, Heineken, Carlsberg, Amstel, Peroni, Budwiser, Corona
Cider: Weston's, Thatcher's, Aspall's, Merry Down, Brother's
And for wine: "Sainsbury's, Co-op and Marks & Spencer clearly label the vegan wines in their selections".
Happy hosting, people 🎉
There's still time to enter our competition for free tickets to Vegan Life Live at Alexandra Palace in February, to enter click here 🌱
Only reading DIVA online? You're missing out. For more news, reviews and commentary, check out the latest issue. It's pretty badass, if we do say so ourselves.
divadigital.co.uk // divadirect.co.uk