DIVA's top tips for surviving "festive limbo" ❄️
Am I meant to be at work? Is it a weekend? Can I still drink Baileys? Danielle Mustarde has some top tips for making the most of the inbetweeny bit
By Danielle Mustarde
Published:
December 27-30 is an odd time. The excitement of Christmas had peaked by your fifth Yorkshire Pudding (cue debate on whether you have Yorkshire puds at Christmas), and as many of us have been drinking solidly for the last week, no one knows what day it is or what they're meant to be doing.
Well, in a bid to help you through the post-Christmas confusion, we came up with a few limbo-tastic activities to keep everyone going until New Year's Eve...
For those spending festive limbo with family
1. Need a break from [insert relevant family member here]? Binge watch a new series!
Okay, okay. This might not seem like something revolutionary, but when else can you sit around in your pyjamas eating Quality Street and drinking Bucks Fizz while binge watching Netflix without feeling guilty about it? It's practically CELEBRATED at this time of year! Revisit OITNB for old time's sake? Or how about The Crown? There's the much chattered about bisexual storyline in season two. Failing that, the brand new series of Black Mirror dropped over the weekend. Need we say more?
2. Do your family tree/bush/shrub
It might not sound like the most thrilling of tasks, but hey, if you're stuck in a house with your family and you can barely name your cousin's wife, take advantage of the brains around you. It might not seem so important at the moment - and for some, perhaps it's not - but learning about your heritage and the lives of your grandparents and great grandparents if you can, can be incredibly interesting (...or so, so, so scandalous - fingers crossed).
3. Dig out your old stuff and have a laugh at how ridiculous you were as a teenager
There's nothing quite like the sweet, cringe-worthy joy of digging out your old stuff, often buried deep in the cupboards of your family's homes, hidden from the normal people you now call friends. If only they knew. Pulling out that love letter from your first best friend-cum-crush-cum-awkward snog at the school Christmas disco. Am I right? Just fight the urge to run out to the garden and set fire to the entire embarrassing collection 🔥🔥🔥
For those spending festive limbo sans-relatives
1. Have a DIY spa day at home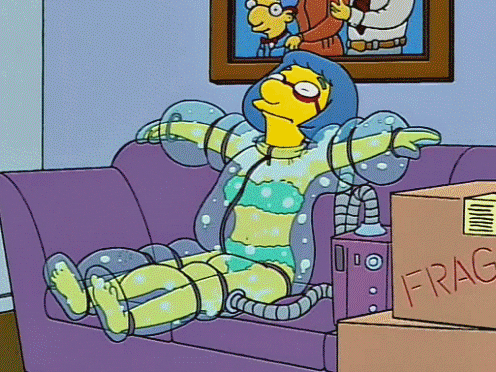 This is the perfect time to spend giving yourself a little LOVE. If you wound up with a lifetime's supply of fancy, mini toiletries post-Christmas, use 'em. And if you didn't, hit the shops (now that the Boxing Day crowds have disappeared, wide screen televisions under arms...) Get yourself some reduced swag and give yourself a DIY spa day at home. Run a fancy bath: bubbles, that Yankee candle you got off your girlfriend's gran, some left over fizz. And after? A face mask! Moisturise! Everywhere! And then refer to number 1 on the "with family" section of this list. You're welcome, friends.
2. Get organised - in a non-stationary heavy sense
Once you've given yourself a little TLC, why not give your humble abode the same? (Yes, this is just a fancy way of asking you to tidy your room) Seriously though, you can wear your pyjamas, have a mimosa (alcohol optional), and play your favourite music as LOUD as you like. There are literally no rules* during festive limbo time. This can then be put down as a) being productive, b) exercise, and c) your home is now New Year's ready - whether you're hosting or just want a clean and tidy nest to recover in on New Year's Day. It's a win-win situation, people.
*There may still literally be rules.
3. And finally, get ready for New Year's Eve ✨
☝🏽​We realise this says 2014 - but how could we not use Miley Cyrus riding a disco ball into the New Year?!
That's right, now you've completed all of the above (which we're sure you have) ...it's time for New Year's Eve! Whether that means a cosy night in on your own watching festive re-runs, dinner with the other half, or a wild night out with friends. However you choose to spend New Year's, make sure you're doing what YOU want to do, there's no "right way" to sashay 2017 away. Happy New Year!
And from all at #TeamDIVA, have a safe and wonderful New Year! ✨
Only reading DIVA online? You're missing out. For more news, reviews and commentary, check out the latest issue. It's pretty badass, if we do say so ourselves.
divadigital.co.uk // divadirect.co.uk